Call toll free 877-4ABOLISH
877-422-6547
Are you having sparrow problems around your house or office? We will Remove and prevent the sparrows or any other bird from returning. We are highly confident in our work and pride ourselves as being an expert in sparrow and bird removal.
Services Provided: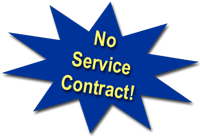 Bird pest Control
Pigeon Control
Sparrow Control
Swallow Control
Bird proofing
Abolish Sparrow removal will solve your sparrow problems. The only way to prevent sparrows from nesting on or in your home is to exlcude them. No scaring devices, gels, nets or trapping houses will completely solve the problem. Sparrows are small and numerous, Our proofing methods are thorough and professional. Other Pest control companies will take the easy and temporary way. We take the effective and permanent method. Instead of solving just the problem we go to the source and prevent it from happening again! Not only will our sparrow control prevent sparrows from nesting, it will exclude other birds as well. Other Companies may use falcons, Electrified netting, air rifles or other disabling or killing methods. We are an environmentally caring company and will, in no way, harm Sparrows or other birds.
We do Sparrow control Killer Bees, Pigeons, Snakes, Crickets, Ants, Earwigs, Rats, Bats, Gophers, Fleas, Mice, Roaches, Silverfish, Black Widows, Ticks, Wasps, Water Beetles, Bees, Sow Bugs, Carpet Beatles, Skunks, Opossum, Raccoons and Yellow Jackets.
-24 Hour-
-Same Day Service-
-7 Days A Week-
-Licensed, Bonded & Insured-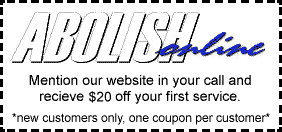 Please print and hand this coupon to a technician
When you call Abolish Sparrow Removal, you call professionals.
Call toll free 877-4ABOLISH
877-422-6547
We also control Bees, Animals, Rodents, insects, and other birds.
Sparrow Removal is the answer

- Senior Discounts
- Industrial
- Commercial
- Residential
- Apartments

- Licensed
- Bonded
- Insured
List Of Sparrows
-American Tree Sparrow
-Bachman's Sparrow
-Baird's Sparrow
-Black Throated Sparrow
-Black Chinned Sparrow
-Brewers Sparrow
-Cassin's Sparrow
-Chipping Sparrow
-Clay Colored Sparrow
-Field Sparrow
-Fox Sparrow
-Grasshopper Sparrow
-Golden Crowned Sparrow
-Rufous Crowned Sparrow
-Rufous Winged Sparrow
-Sage Sparrow
-Savannah Sparrow
-Seaside Sparrow
-Sharp Tailed Sparrow
-Song Sparrow
-Swamp Sparrow
-Vesper Sparrow
-White Crowned Sparrow
-White Throated Sparrow
-Yellow Winged Sparrow
-Harris' Sparrow
-Henslow's Sparrow
-Lapland Longspur
-Lark Bunting
-Lark Sparrow
-Le Conte's Sparrow
-Lincoln's Sparrow

---
home | specials | commercial | residential | service area
preparation | pests | feedback | contact us
© Abolish Pest Control Co.,1999 - 2005. Absolutely no rights of distribution by sale or other transfer of ownership or by rental, lease or lending, preparation of derivative works, or reproduction, in whole or in part, is not granted. No text, graphics or photos may be downloaded and used on another Internet site, without express permission of AbolishPestControl. For information on obtaining photo useage and rights, please see our contact page. AbolishPestControl reserves the rights to actively protect against infringement. Sparrow pest